DURABLE POWDER COATING
IN BOONSBORO, MD
High Tech Powder Coating Covers Furniture, Auto Parts, and More
Many people have discovered that powder coating is better than paint in every way when it comes to finishing electronics, railings, furniture, and more. When customers in Washington County, MD, and throughout the surrounding area need great, long-lasting, professional powder coating, they turn to High Tech Powder Coating in Boonsboro, MD. We offer quality results with a quick turnaround at competitive prices.
Our team uses state-of-the-art equipment and takes great pride in our work. We offer a virtually endless variety of color options, and our shop can handle both high-volume and short-run orders.
Contact us today at (301) 432-7500, email us at [email protected], or contact us online to discover what High Tech Powder Coating can do.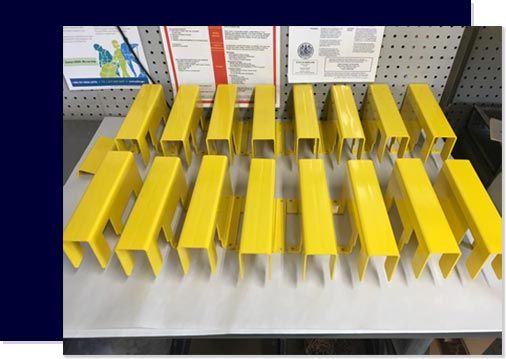 Powder coating is a dry finishing process that uses a mixture of finely ground particles of resin and pigment. Our team will spray this mixture onto a surface and then heat it to 400 degrees Fahrenheit in a curing oven. This cured powder coating is much more durable than paint and more environmentally friendly, too.
Regular paint is susceptible to the elements, but powder coating lasts an average of three to six times longer than paint. It is resistant to corrosion, heat, impact, abrasion, sunlight, and severe weather. Various finishes are also available, including high and low gloss, metallic, and much more.
What Can Be Powder Coated?
There is almost no limit to what can be powder coated. At High Tech Powder Coating, we handle everything, including electronics powder coating, railing powder coating, metal lawn furniture powder coating, auto parts powder coating, and motorcycle parts powder coating.
When our customers want the best finish —  whether it is on their own items, commercial items, or even industrial items —  they make the smart choice and call High Tech Powder Coating.
We Also Handle Sandblasting and Much More
We are much more than professional, great-looking powder coating services. We are also sandblasting experts, and we can have items such as older, rusted metal lawn furniture looking as good as —  if not better than —  new. Sandblasting is the best process for removing large areas of rust and corrosion, leaving behind a smooth finish. It is also effective on brick and concrete, and polished surfaces will have a new, shiny appearance.
Our team also handles metal finishing, so contact us today to find out everything that High Tech Powder Coating can do.
Great Work and Customer Service Since 1997
High Tech Powder Coating prides itself on great service alongside awesome results our customers will love. We have been in business since 1997, and we bring all of that experience to every job, regardless of size. We also use the latest in electronic technology.
Our employees are extremely picky, and if something does not look good to them, the customer will never see it until it is exactly right. We take pride in our work, we value our customers, and we promise the best.
We proudly serve Washington County, MD, and the surrounding area, including into West Virginia and northern Virginia. So whether you are in Boonsboro, MD, Frederick MD, or Leesburg, VA, you can depend on High Tech Powder Coating.